Border City Squares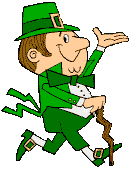 President's Corner March 2001
Class Dance/Party

On Monday, March 19th from 7 - 10 PM, we are hosting a dance/party. The theme is St Patrick's Day. This is the first dance/party for our January new dancers so most tips will be at their level. Two tips will be for our September new dancers (using almost all of the Mainstream calls). This is a good time for everyone to meet our new dancers and for club members who haven't danced in awhile to start coming on Monday nights to get ready for the Convention next month. Please bring some finger food (no pot luck dishes, please) to share. Dress is casual. The cost is $5 donation/dancer.

Annual Meeting

The annual meeting will be held on April 30, 2001. Please put this on your calendar as a "must attend".

Bylaws

Our club's bylaws stipulate that they must be reviewed every three years. Wayne and Priscilla Griffin have led the board in reviewing them and a number of revisions will be proposed at the annual meeting. A copy of the proposed revisions as well as the current bylaws will be available at workshops, dances, and on the club's web site [ Click Here ]. All club members are invited to review the bylaws and submit any changes they feel would be appropriate. Club members will vote to accept the revised bylaws at the annual meeting on April 30th.

Elections

Elections are in April. Some of our board members are completing their second year in their office, the limit set in our bylaws limit. We need volunteers to be our Banner Chairs. Some of the other board positions may also need to be filled. A poster will be displayed at our workshops to show the duties of each office as shown in the present Bylaws. We need volunteers. The April newsletter will show which members have been nominated for any of the offices and which have accepted or declined the nomination. Members may be nominated and accept nominations for more than one

office but that does not mean that they will accept more than one office.

43rd NESARD Convention

We need at least 10 members/ couples to pay $2 (collected by the treasurer) to have a Border City Squares members booster listing in the convention booklet. Manchester is only 20 miles away. The registration cost increases after March 31st, so register soon.

Square Dance Foundation Raffle

Everyone who attended the convention last year received tickets to buy and/or sell for this worthy cause and raffle. Purchase a ticket for $1 or 6 tickets for $5 to have a chance to win $1000 (1st prize), $300, or $200. You need not be present at the NE Convention when the winning ticket is drawn. Viv and Bill Thompson won the $200 (third prize) last year. It paid for one of their weekends. See any board member for tickets.

NESRDC

There is still a place for a convention delegate. The club will probably not be doing as much at the convention this year since we have had no one come forward to organize our participation but it is not to late. Chris Howard has some more information later on in the newsletter.

Square Dance Demo – Dancers Needed

The club will be doing a demonstration dance for the residents of Gatewood Manor on March 29th from 6 to 7 PM. Jerry Maurice will be calling. This is entertainment for the residents and is not a "fun night" type of activity. There is room for one square and since it is a demonstration only 4 to 6 couples would be needed. Square dance costumes should be worn. Contact me if you are interested in participating.

Membership Correction

Arthur Fitzgerald is a paid member. His phone number changed.

Bob Baker
President
§§§§§§§§§§§§§§§§§§§
43rd NESRDC Notes
The New England Square & Round Dance Convention is just around the corner on April 27th and 28th. As with last year's convention, this year's will be held at the Center of New Hampshire in Manchester. The Convention Committee promises that all the sound problems we had last year have been resolved, and this will be a great weekend. For the real enthusiasts, there will be the usual trail in dance on Thursday evening.
If you haven't sent in your registration, there is still time, and you can pick up registration forms at any of the Club functions. For those who can't dance on both Friday and Saturday, the Convention Committee is again offering one-day tickets at the door for $15 per person per day.
Since the New Hampshire square dance clubs are hosting the convention, Border City Squares has again been asked to help staff one of the hospitality tables and the communications room. Sign-up sheets for these duties will be at all Club functions.
The table shown below for the communications room lists the hours available on Friday. We are not required to fill all of these hours, but the Communications Committee would appreciate any help we can give them.
We will be sharing a hospitality table with two other clubs, and we are asked to provide two hosts/hostesses for the times between 12 noon and 11 PM on Saturday. Thanks to those who have already signed up, we only have 3½ more time slots to fill. Please help us out if you can.
COMMUNICATIONS ROOM (Friday)
HOSPITALITY TABLE (Saturday)
12:00 – 1:00 PM
12:00 – 1:00 PM
Jim Hawkins
1:00 – 2:00 PM
1:00 – 2:00 PM
Dave & Mary Raymond
2:00 – 3:00 PM
Bill & Vivian Thompson
2:00 – 3:00 PM
Cheryl Palucchi & Margery Shank
3:00 – 4:00 PM
3:00 – 4:00 PM
Skip & Penny Guild
4:00 – 5:00 PM
4:00 – 5:00 PM
Amy & Katherine Bollenbach
5:00 – 6:00 PM
7:00 – 8:00 PM
6:00 – 7:00 PM
8:00 – 9:00 PM
8:00 – 9:00 PM
9:00 – 10:00 PM
Chris & Norma Howard
9:00 – 10:00 PM
10:00 – 11:00 PM
Wayne & Priscilla Griffin
10:00 – 11:00 PM
Submitted by Chris Howard
Acting BCS Convention Delegate
§§§§§§§§§§§§§§§§§§§
Vice Presidents' Report
Planned 2001-2002 Dance Season Schedule
Contracting callers and cuers for our monthly dances is a task completed two year in advance of the planned dance season and performed by the Vice President(s) of our club. Our 1999-2000 Vice President, Debbie Coit, contracted the following callers and cuers for our 2001-2002 dance season. In preparation for this year's annual meeting, we want to ensure all members have a chance to review this information. The contracts for these dates, callers and cuers have all been signed but it may be possible to change the level of a dance depending on the caller. If any member(s) would like to suggest changing the level of any dances, please tell us. We could print any suggested changes in the April newsletter so this item of business will not require a lot of time at our annual meeting.
| | | | |
| --- | --- | --- | --- |
| Date | Level | Callers | Cuers |
| 1. September 8, 2001 | Mainstream & 2 Plus | Everett Mackin | Barbara Nutting |
| 2. October 13, 2001 | Mainstream & 2 Plus | Dave Muller from S. Meriden, CT | Beverly Boudreau |
| 3. November 10, 2001 | Plus | Club Caller | Bernie Porter |
| 4. December 8, 2001 | Plus | Norm Poisson | Marilyn Rivenburg |
| 5. January 12, 2002 | Class Calls 1-43 | Club Caller | None |
| 6. February 9, 2002 | Mainstream & 2 Plus | Patty Greene | Beverly Boudreau |
| 7. March 9, 2002 | Class Calls 1-63 | Matt Auger | Barbara Nutting |
| 8. April 13, 2002 | Plus | Frank Lescrinier from Upland, CA | Pat Brann |
| 9. May 11, 2002 | Mainstream & 2 Plus | Jim Schell | Sandi Simmons |
| 10. June 8, 2002 | Mainstream & 2 Plus | Jim Wass from Riverdale, MD | Beverly Boudreau |
Wayne and Priscilla Griffin
Vice Presidents
§§§§§§§§§§§§§§§§§§§
Club Chair Report
Beautiful decorations, unusual calling, and smooth cueing made for an excellent mainstream dance at our "Famous Lovers" dance on February 10th. Norm Poisson is undoubtedly one of the most creative callers around at just about any level. The dancers were a spirited bunch that kept up pretty well; however, lest any of us became over confident, Norm would occasionally throw us a curve "just to let us know who was in charge!" Marilyn Rivenburg also gave us a great time with plenty of phase two dances for our many members who have only begun learning rounds as well as a few higher level dances for the more experienced.
Thanks to all who helped Cheryl Palucchi and Mary Raymond, the hostesses, set up for the dance including: Mike and Joyce Peterson, Bill and Viv Thompson, Penny Guild, Debbie Coit, Wayne and Priscilla Griffin, Steve Wurtzler, Dave Raymond, Margery Shank, Norma and Chris Howard. We also had a great food table thanks to the efforts of all who attended. We also want to thank the clean up crew who had the extra duty of resetting up tables and chairs for a church event held the next day.
The only real disappointment at the February dance was the very poor attendance both from other clubs and from our own. February is normally one of our best attended dances, but at this dance there were only 48 paying dancers – 19 from BCS, 14 from the Turkey Town Trotters (retrieving), 8 from Litchfield (retrieving), and 7 guests from other clubs. What was especially disappointing was how few of our mainstream dancers took advantage of this dance. Most of our recent raids and retrievals have been at the plus level due to other clubs' schedules, and we felt sure many of our dancers would enjoy getting out to a mainstream dance. Where were all of you?
Our next dance, on March 10th will be a class dance, which will include nearly all of the mainstream calls. Although small in numbers, our phase 2 square dance class has some very good dancers, and this will be a great opportunity for all our club members to meet and dance with them. Patty Greene will be calling, and Bev Boudreau will be cueing. Pelham Partners is expected to raid this dance. The theme will be "Leaping Leprechauns," and the class will be hosts. As usual, we will be setting up the church hall at 12:30 on Saturday, and we would greatly appreciate your help.
Chris and Norma Howard
Club Chairpersons
§§§§§§§§§§§§§§§§§§§
Class Chair Report
We would like to introduce the new class members who joined Border City Squares in January. Please welcome Anne-Marie Boucher, Muriel Credle, Dan Kelly, Cecilia Kendig, Jim McClarin, Anna Mullen, and Annie Newcomb. They have attended 5 class workshops and learned 24 calls. The current planned Graduation date for the January Class is July 30th.
The September class has nearly completed the Mainstream calls with only 8 calls left out of a total of 71. Graduation for the September class is just around the corner and will be April 23. Family and friends are welcome to join our new members and help them celebrate the completion of the Mainstream program and their becoming official members of Border City Squares. They will have their official badges just in time for the New England Square and Round Dance Convention in Manchester the following weekend.
Bill & Susan Leuci and Diane Troyer attended the Firesiders class dance on February 10th in Atkinson, NH. Jim Mayo was the caller. Jim is a veteran caller having called the circuit for 51 years. Jim helped found the Border City Squares and was the first club caller.
On February 17th - Amy, Katherine, Jim McClarin, Diane, Susan & Bill attended the Concord Coach dance. George McGibbon was their caller.
On February 18th - The Monadnock Squares in Keene sponsored "The Freshman Frolic": This was a dance with many callers. Bill & Susan ventured out to this dance on their own and were welcomed by everyone. Clubs are noticing that we have a class to be proud of.
Bill and Susan were surprised to learn that they had earned the "Purple Heart". This dangle is earned by dancing in a square with 3 callers. They were privileged to dance with Dan Guin, Ted Cromack and a guest caller from Florida at the Freshman Frolic.
On February 24th - Bill and Susan, Lori Forrence, Rita Lamache, and Jim Hawkins attended the Mason Wolf Rockers Dance in Mason, NH. Their caller was yodeling Charlie McLeod.
The September class will be hosting our next dance at Infant Jesus Church Hall on March 10th. The theme will reflect the St. Patrick's Day Holiday.
Club Skirts
We will be placing an order for club skirts the last week of February. If anyone interested, we will be at the workshop on Monday, February 26th or call us at 889-0080.
Guidelines for Angels
It has been brought to our attention by several members of both classes that we need to review with everyone the roles of Angels.
What are Angels? They are the wonderful people who volunteer their time to ensure that a class of new dancers has the best possible learning experience. Angels provide the new class members with their first real look at the club.
Angels are also role models. No matter what the caller and club try to communicate to the students concerning etiquette, attitudes, or styling, class members inevitably take their cues from what they see the angels doing. So it is important that angels be extra careful to be good role models.
End Conversations: End conversations promptly when the teacher begins a tip. If you are not dancing, keep your conversations far away from the dance area.
Let the Caller do the Verbal Teaching: It is always tempting to explain something your square is not getting, and the students will often ask you to do this—but you must resist. It diverts the students' attention from the teacher and one of the most important things to learn in beginner class is to listen to the teacher/caller. Sometimes you can clarify a simple point for students between tips; this is fine, but not while the caller is at the microphone.
Teach by Example: Angels' primary teaching function is to teach by example—to be in the right place at the right time.
Do the Calls as Defined: Club styling is always a third major source of contention. It is important that beginners learn the calls with standard Caller Lab styling, that is, without the flourishes we like so much. The teacher will introduce the club styling at appropriate times after the calls are mastered. Angels must use only the styling, which has been taught to the class. This is not always easy, but it really is very important.
March 2001 Dance Schedule

#

Level

Club

City
ST

Caller

Cuer

Theme / Notes

2
C
Litchfield Swingers
Mill-A-Round
Manchester
NH
Ralph Peacock
Marilyn Rivenburg
Fun Badge Night
3
M
Concord Coach
Concord
NH
Ted Lizotte
Marilyn Rivenburg
BCS Banner Raid
3
C
Side Splitters
N. Attleboro
MA
Greg Maconi
Lucille Harris
Class Ball
3
Class
M/P
Sunset Squares
South Portland
ME
Johnny Wedge
Pat Brann
Rounds 7PM
Squares 7:30 PM
4
Contra
Lake Shore Farm
Northwood
NH
Lisa Greenleaf
None
2 - 5 PM Contra
See Flyer
4
C (M)
P
WACA Annual Sq. Dance
$5 advanced/$6 at door
Shrewsbury
MA
Many
Many
2-5:30 PM
5:30-6 PM Ceremony
9
C
Square Riggers
Westwood
MA
Everett Mackin
None
Class Ball See Flyer
10
C
Border City Squares
Nashua
NH
Patty Greene
Bev Boudreau
Leaping Leprechauns
10
C
Sage Swingers
Bath
ME
Kip Moulton
Linda Moulton
10
C/P
Swingin' Bears
S. Paris
ME
John Thompson
Viv Thibodeau
7:30 PM
30
C/M
Cloudbusters
Peterborough
NH
Patty Greene &
Mike Petitbon
None
Leprechaun Laughter
31
C/M
Pine Tree Riot Squares
Weare
NH
Charlie McLeod
None
Viv and Bill Thompson
Class Chairpersons
§§§§§§§§§§§§§§§§§§§
Banner Chair Report
The energy was high from the opening tip and never let up as caller Mike Petitbon thrilled us with some jazzed up calls that he put together in intriguing combinations. But you had to like the method of Mike's madness: If he threw you off at first, you'd probably see the same combination about six times before the tip was over. This Hawaiian Luau with the Litchfield Swingers on February 2nd was a dance not to be passed up. And Border City certainly didn't pass this one up as 21 dancers swarmed the Griffin Memorial School to feast on this dancing extravaganza! Can you believe we almost had 3 squares? The satisfied gang from BCS included Roberta Blais, Mike Peterson, Hal Kelley, Mary & Dave Raymond, Jonas Green & Tammy Dorris, Debbie Coit, Margery Shank, Chris Howard, Wayne & Priscilla Griffin, Bruce Williams, Skip & Penny Guild, Steve & Lorri Wurtzler, Steve O'Neil, Cheryl Pecor, Bob Baker, and Preston Walsh.
Have you ever seen a square-dancer with that "deer in the headlight look on their face?' I must admit that happened to me while dancing to Norm Poisson at our February 10th club dance. At this mainstream dance, Norm sure did an outstanding job mixing up the calls, making familiar calls from unfamiliar positions. He had me concentrating on the calls so much that I basically forgot about the slim dancer turnout on this evening! The two retrieving clubs were Litchfield Swingers with 8 dancers, and Turkey Town Trotters with 14 dancers.
Heel & Toe put on one heck of a dance on February 17th! About 12 squares of dancers flocked to Manchester to dance to Jerry Maurice and Bernie Porter. It was delightful dancing to Jerry, our new club caller! This sure felt like a festive occasion with several of the local clubs on board this evening. The entourage from Border City included Mike & Joyce Peterson, Bruce Williams, Tammy Dorris, Hal Kelley, Roberta Blais, Chris Howard, Margery Shank, Steve & Lorri Wurtzler, Preston Walsh, Dave & Mary Raymond, Bob Baker, and Cheryl Pecor.
Once the final caravan of Border City dancers arrived for the raid on the Turkey Town Trotters, the dance just exploded into a night of thrills for all. Caller Dave Hass had us half-sashaying all over the place. To top it all off, Dave treated us to some Progressive Squares. Now that was EXCITING! Not bad for a drunken' caller (you had to be there)! Those in on the action from Border City Squares were Steve & Lorri Wurtzler, Cheryl Pecor, Bob Baker, Chris Howard, Wayne & Priscilla Griffin, Skip & Penny Guild, Mike & Joyce Peterson, Cheryl Palucchi, Della Crawford, Roberta Blais, Preston Walsh, Hal Kelley, and Debbie Coit. Make sure that you don't miss this caller at our June dance!
Make sure that you don't pass up our March 10th club dance. This class dance will be called by Patty Greene and the cueing will be done by Bev Boudreau. Pelham Partners are raiding this dance. We're looking forward to seeing you there!
March and Early April Raids/Retrievals:
| | | | | | | |
| --- | --- | --- | --- | --- | --- | --- |
| Date | Club | Location | Level | We Are | Caller | Cuer |
| 03/03/01 | Concord Coach | Concord, NH | MS | Raiding | Ted Lizotte | Marilyn Rivenburg |
| 03/17/01 | Pelham Partners | Windham, NH | Plus | Retrieving | Jerry Maurice | Bernie Porter |
| 03/23/01 | Square Riggers | Westwood, MA | Plus | Retrieving | Jim Pulaski | Phil Gatchell |
| 03/31/01 | Wolf Rockers | Mason, NH | MS/PL | Raiding | Noah Nutting | Barbara Nutting |
| 04/07/01 | Skirts 'N Flirts | Wilmington, MA | Plus | Raiding | John Hendron | Lou Toth |
Last Month's Raids and Retrievals:
| | | | | | |
| --- | --- | --- | --- | --- | --- |
| Date | Club | Level | We Were | Their Members | BCS Members |
| 02/02/01 | Litchfield Swingers | Plus | Raiding | 8 | 21 |
| 02/17/01 | Heel & Toe | Plus | Retrieving | 14 | 15 |
| 02/24/01 | Turkey Town Trotters | Plus | Raiding | Scheduled 06/09/01 | 17 |
Clubs Raiding / Retrieving at Our February Dance:
| | | | | |
| --- | --- | --- | --- | --- |
| Date | Club | They Were | BCS Members | Their Members |
| 02/10/01 | Litchfield Swingers | Retrieving | 21 | 8 |
| 02/10/01 | Turkey Town Trotters | Retrieving | 17 | 14 |
Club Banners We Have: Clubs With Our Banners:
| | | | | | | | | |
| --- | --- | --- | --- | --- | --- | --- | --- | --- |
| Date | Club | BCS Members | Retrieval Date | | Date | Club | Their Members | Retrieval Date |
| 03/31/00 | Cloudbusters (1st) | 25 | Not Scheduled | | 11/11/00 | Square Riggers | 10 | 03/23/01 |
| 09/16/00 | Bradford Country Squares | 21 | Not Scheduled | | | | | |
| 09/22/00 | Cloudbusters (2nd) | 15 | Not Scheduled | | | | | |
| 01/06/01 | Firesiders | 16 | 04/14/01 | | | | | |
| 02/24/01 | Turkey Town Trotters | 17 | 06/09/01 | | | | | |
Lorri and Steve Wurtzler
Banner Chairs
§§§§§§§§§§§§§§§§§§§
Back to Border City Squares News