Directions to Montachusett Twirlers in Leominster MA
Click Here is to see location of Congregational Church of Christ using MapQuest
Take Route 130 West to Route 13 South. The church is on the Left just before a traffic
light and before going under a railroad bridge.
Overview Map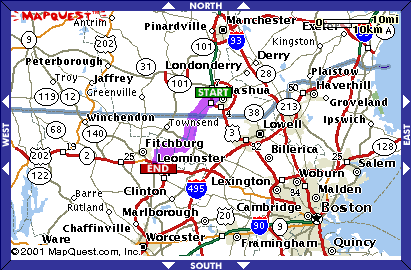 DIRECTIONS - From the Nashua Mall
DISTANCE
1:
Go West on Route 130/Broad Street to Hollis, NH
5.7 miles
2:
Cross Route 122 in Hollis and continue on Route 130
4.6 miles
3:
Route 130 joins Route 13 in Brookline, go South to Townsend MA
3.9 miles
4:
Cross Route 119 in Townsend MA, continue South on Route 13
6.3 miles
5:
Turn Left to stay on Route 13 at the Route 2A split
3.1 miles
6:
The church is on the Left just before you get to a traffic light and
see under a bridge that goes under a railroad track.
0.1 miles
TOTAL ESTIMATED TIME:
TOTAL
40 minutes
23.7 miles
Note: You can also take Route 3 South to Route 495 South (15 miles) to Exit 29B which
is Route 2 West (12 miles) to Route 13 North (13 miles). Pass under a railroad bridge and
on the Right just past the traffic light is the curch. It's about 40 miles and takes about 50 minutes.
-----